Meet 2DSurgical's pioneering 2D datamatrix reader
Thursday, 2 January 2020 Liz Clynes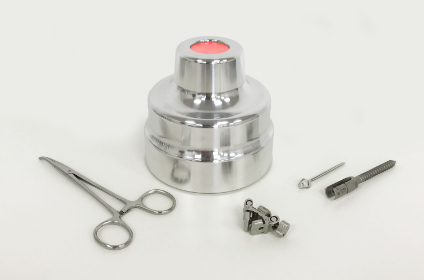 2D data matrix codes are ideal for marking small or difficult items. Reading these small codes on challenging surfaces, however, has not always been easy and attempts to widely implement tracking systems have been expensive, frustrating and time consuming. This is no longer the case.
2DSurgical's readers will quickly and easily read even the smallest 2D data matrix codes. Small low-contrast codes on reflective or curved surfaces are not a problem. The readers will easily read multiple codes of different sizes in a fraction of a second. There is no need to focus and reading is so easy that it becomes an almost imperceptible part of the work process.
2DSurgical's SurgiScan Reader was specifically developed to enable tracking of surgical instruments through operating theatres and sterile supply units. The easy to clean aluminium case is sealed to prevent water ingress and conforms to IP65. Codes on very small instruments that are almost invisible to the human eye can be captured and read in a fraction of a second.
2DSurgical expertise has also produced products which have been used in biobanks and scientific laboratories around the world for many years. High performance vial readers can read a rack of 384 small sample tubes each with a code only 2mm x 2mm in less than half a second.
Technology such as this can be transferred to any industry and tracking small parts is no longer a problem. 2DSurgical can help customers achieve the 2d data matrix readings needed to implement the tracking and traceability they desire.
These world leading, cost effective 2D data matrix readers open up a multitude of possibilities for 2D data matrix applications and processes.