Instrument-level tracking - the new reality
Thursday, 7 November 2019 Liz Clynes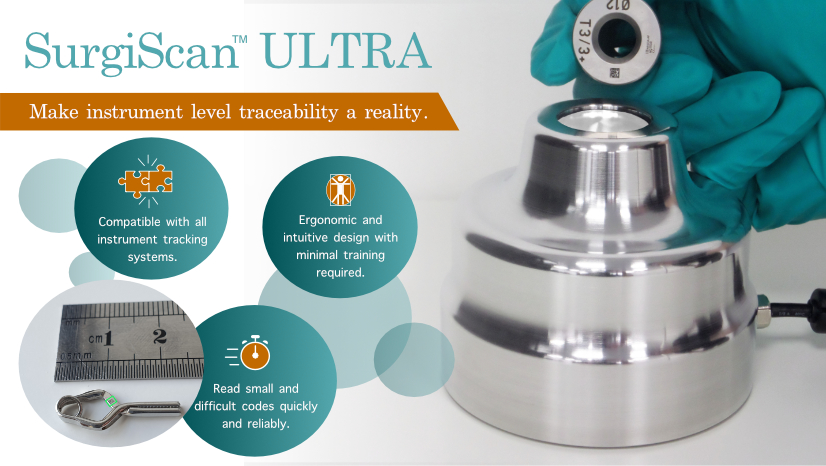 2DSurgical's custom-designed readers allow the tracking of individual instruments, whether through operating theatres, central sterilising departments or simply for inventory purposes.
SurgiScan 2D Data Matrix Readers make tracking of individual instruments easy and straightforward. Tracking of individual instruments used to be impractical because the 2D Data Matrix codes could not be read reliably and often attempts to implement this type of system were frustrating and time consuming.
This is no longer the case. 2DSurgical's readers will quickly and easily read even the smallest 2D Data Matrix codes on the most challenging surfaces. Small, low-contrast codes on reflective or curved surfaces are not a problem.
The readers will work with any software system and can be supplied when you purchase new software or retrofit to existing systems.
SurgiScans are custom designed for purpose and facilitate cleaning within central sterilising departments by having a sealed aluminium case that prevents entry of water (IP65).
SurgiScans are so easy to use that reading codes on instruments becomes an almost imperceptible part of the work process. So whether you wish to track instruments through your operating theatres, central sterilising departments or for inventory purposes, it has never been easier.
Readers are being rolled out in hospitals and central sterilising department units worldwide. This level of tracking is quickly becoming the new norm.
SurgiScan will make it easy so that you can relax. You can be confident in the safety and benefits you gain from a new level of traceability.